Our family visited American "Ace Pilot" Colonel A. T. House (Retired) in Miami, Florida.
As a young Lieutenant, Colonel A.T House served with the 7 squadron of the 49th Fighter Group at Horn Island, and during the first air raid on Horn Island on 14 March 1942, performed a remarkable feat, something that has never been done before or since.  During aerial combat between the American P40 Kitthyhawks and the Japanese Zeros, Col. House deliberately rammed his right wing straight through a Zero which was about to shoot down his commander, Captain Bob Morrissey.  House managed to land his stricken craft at 150mph, Morrissey's life was saved and the Japanese had been engaged for the first time in the air over Queensland.  For full details of this remarkable story, visit the Torres Strait Heritage Museum.
Colonel A. T. House (Retired), then 2nd Lieutenant was responsible for shooting down one Mitsubishi Zero and colliding with another to save his Commanding Officer, the late Colonel Robert Morrissey (Retired), then Captain.
Vanessa completed her initiation to being sworn in as a "Justice of the Peace" at Horn Island Airport.
We had a fantastic evening with other tour operators from the Far North, and were absolutely delighted to come away with the 'Tour Operator' award for Tourism Tropical North Queensland.  We both enjoyed the opportunity to dress up for the evening !
Ben Southall, winner of the Best Job in the World was there on the night.   He had just visited us and Horn Island two weeks before.  We met up with him on the night.
Special Thanks to Lutsje Waddington of Heritage Tours for looking after our Girls while we were out having a good time.
Ben Southall Winner of the "Best Job in the World" visited us on 27th October 2009.  We explored some of the World War Two sites on Horn Island with Ben, including a wartime air-wreck, underground command post, anti aircraft gun emplacements, slit trenches and other memorable sites.  Combined with veteran's stories and historical information, the visit was a real eye opener for Ben.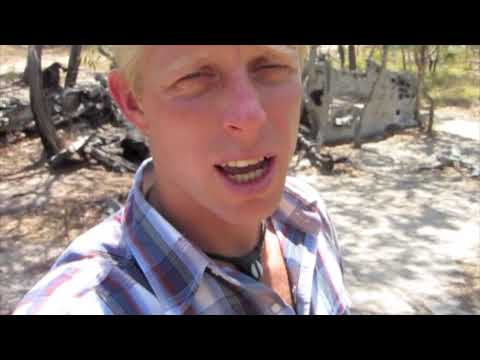 Following the site visit, Ben loved the Torres Strait Heritage Museum, where he watched some documentaries, and enjoyed the Torres Strait cultural and wartime displays.
Raymond J Warren, Author of Wildflower: The Barbara Crawford Thompson Story has started a Blog.
It's called Barbara Thompson the Wildflower. 
His book can be bought directly from him and he can be contacted there.